Truffelicious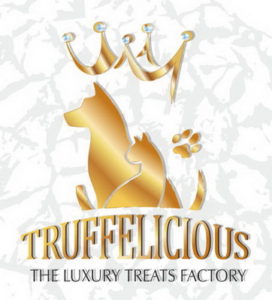 Our company is a manufacturer of globally unique premium pet treats for dogs and cats.
We are engaged in pet food research and development, production and sales, so that we can guarantee the best quality for our products. Headquarter is in located in Bad Schmiedeberg, Germany.
Our products are suitable for all dogs and cats. The main products are divided into three different groups: tubes, cans and sticks.
The sticks are suitable for dogs and cats.






---
| Brand | MPN | Title | MSRP | |
| --- | --- | --- | --- | --- |
| Truffelicious | 6946 | Truffelicious Truffled Horse Sticks, 100G, for dogs | $229.2 | Add to cart Get Quote |
| Truffelicious | 7019 | Truffelicious Truffled Turkey Duck Pate, 190G, for dogs | $1005.36 | Add to cart Get Quote |
| Truffelicious | 7020 | Truffelicious Truffled Duck Pate, 190G, for dogs | $965.14 | Add to cart Get Quote |
| Truffelicious | 6948 | Truffelicious Truffled Turkey Sticks, 100G, for dogs | $187.12 | Add to cart Get Quote |
| Truffelicious | 6994 | Truffelicious Truffled Duck Liver Pate, 75G, for cats | $3 | Add to cart Get Quote |
| Truffelicious | 6997 | Truffelicious Truffled Beef Liver Pate, 75G, for dogs | $3 | Add to cart Get Quote |
| Truffelicious | 6945 | Truffelicious Truffled Duck Sticks, 100G, for dogs | $200.98 | Add to cart Get Quote |
| Truffelicious | 7017 | Truffelicious Truffled Chicken Salmon Pate, 190G, for dogs | $1005.36 | Add to cart Get Quote |
| Truffelicious | 7021 | Truffelicious Truffled Venison Pate, 190G, for dogs | $1005.36 | Add to cart Get Quote |
| Truffelicious | 6947 | Truffelicious Truffled Pork Sticks, 100G, for dogs | $229.2 | Add to cart Get Quote |
| Truffelicious | 6993 | Truffelicious Truffled Codfish Pate, 75G, for cats | $3 | Add to cart Get Quote |
| Truffelicious | 6995 | Truffelicious Truffled Salmon Pate, 75G, for cats | $3 | Add to cart Get Quote |
| Truffelicious | 7018 | Truffelicious Truffled Horse Pate, 190G, for dogs | $1005.36 | Add to cart Get Quote |
| Truffelicious | 6949 | Truffelicious Truffled Venison Sticks, 100G, for dogs | $214.84 | Add to cart Get Quote |
| Truffelicious | 6998 | Truffelicious Truffled Pork Liver Pate, 75G, for dogs | $3 | Add to cart Get Quote |